Planning to Work Abroad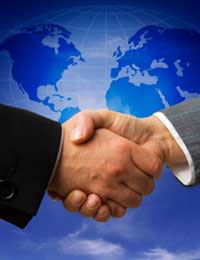 Whether it's a gap year, a career move or a complete change of lifestyle, planning to work abroad is as exciting as it is bewildering and no matter how much preparation you put into it there'll always be surprises in store. It's all part of the thrill and the experience, but it's certainly not a walk in the park to immerse yourself in such a brand new life – there will be culture shocks a plenty and times when you question not only your judgement but your sanity too!
Finding a Job
There are two possible approaches to beginning your job search in another country: you can search for something in your professional field – perhaps even with the company you currently work for if the option exists; or, you can go for a complete change of lifestyle and look at what the most striking options are in your country of choice.
Young people looking for a fun-filled and not too mentally challenging vocation will find endless opportunities on the internet, but if you're only going as far as Europe it's often more practical just to do the research on how the land lies and then find a job when you get there. Bar and restaurant work, au pair work, good old fashioned cherry picking and countless other options are available, particularly in peak season.
Preparation
If you're thinking more in the long term, you should put more time into your planning – particularly deciding where you'd like to go and reading up about it. If you'd like to go out of Europe you're best advised to find an employer in advance who will be prepared to sort out the paperwork in order to get you a work permit. This may mean taking a few trips for interviews and the like. It may also be the case that before you can embark on a career in your chosen field, you need to become competent with the language.
Learning a few words of the language reaps unimaginable benefits in the early weeks and months. It's a laborious task but well worth a little home learning to pick up a few words. Of course, being there is the best way to learn quickly and you'll find that thanks to the seemingly fruitless and boring hard work you put in at the beginning to learn the basics, you'll become fluent much more quickly.
Culture Differences
Rather than attempt to summarise the entire world, let's examine the particulars of the British workplace, and simply say that these idiosyncrasies will probably be less apparent the further afield you go. In Britain, punctuality is of great importance – you can even receive official disciplinary warnings for bad punctuality. Working conditions and standards are fairly high as is the importance of equal opportunities, while job security and labour mobility are respectively lower and higher than they were in the past.
The most outstanding feature of the British private sector however, is its efficiency. In today's fast paced professional world and high-octane economy, we work longer and harder than ever before. Not only is this great natural preparation for a new adventure, but it's attractive to foreign employers too.
Back Home
Keeping things in order back home can be tricky if you don't lay foundations before you leave. If you don't have internet banking it's strongly advised you set it up. If you own property, you may choose to leave it in the hands of an estate agent who can rent it out while taking care of maintenance for you. It's also a sound investment to get internet access in your new home as soon as possible, as you'll be spending more time than ever before keeping in touch.
Of course, if your intention is to break ties with the UK completely, then much of the above becomes less important! Get a card version of your driver's license to use as ID rather than carrying your passport around forever more, and remember to take with you any personal documents such as your birth certificate and education certificates. Otherwise, box up your most treasured possessions and put them in a safe place where they can collect dust until you want them again – an elderly relative's loft is a perfect example.
Working abroad is not just a fulfilling experience, it can be life-changing. Added to this, it's also an interesting thing to have on your CV – as are the language skills you'll pick up. It's a great way to subsidise a trip – possibly even indefinitely – but even if it is just a short term adventure, the friends you make and memories you keep remain with you forever more.
You might also like...