Visas & Work Permits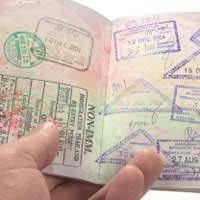 Thanks to a variety of historical and political reasons, a British passport tends to carry a generous amount of credibility around the world and as such, holders are blessed with more freedom to travel the earth than most people of other nationalities. However, the Queen's kind request on the inside of the front cover, that the bearer may "pass freely without let or hindrance" is, sadly, a little optimistic.
If you're planning on travelling outside of Europe, you may well need a visa. Tourist visas are not usually difficult to obtain and cost very little if anything at all. Some countries, such as the USA and Canada, operate a reciprocal visa waiver system whereby citizens of each country may visit the other for short periods (usually up to 90 days). However, getting a work visa in another matter entirely.
Working in the European Union
Despite not sharing the single currency, the UK is a full member of the European Union, and therefore British citizens are also European citizens. As such, we are able to work and live in any other EU member state for as long as we like, without any kind of visa or work permit and with the same rights as every other citizen.
In theory, we can also claim benefits in other European countries, employers are bound by a minimum wage structure and we are fully entitled to free healthcare too, however, it's fair to say that European integration has not quite reached the level yet at which this is a reality. To guarantee free healthcare, it's necessary to obtain a European Health Insurance Card (EHIC) from the Department of Health. It's free, and you can apply online or through your local Post Office. As for benefits and workers rights, it depends entirely on where exactly you go.
Outside the European Union
To get a work permit outside the European Union you first of all need an employer. Said employer then petitions the government of their country to give you a work visa. In most cases, the purpose of the application is to demonstrate that the service you provide is in demand and that you have the necessary expertise, experience and qualifications to do the job. There will usually be arbitrary background checks and you'll need to prove your financial stability (often by paying out a large administration fee).
In most cases, the employer takes responsibility for the paperwork and simply requires your cooperation. Most professionals are in demand - doctors, nurses, engineers - but anyone with a skill or a trade has a reasonable chance of finding an employer. Australia for example, which for many years has been very difficult to emigrate to, has opened its arms specifically to professionally qualified hairdressers, childminders and IT specialists!
Work permits nearly always have to be applied for and granted from your country of residence and can take months, even more than a year to come through sometimes, particularly from the USA. Some countries, such as Australia, offer a working holiday visa to young people wishing to supplement a gap year or travelling experience.
To enquire about your visa options, begin with the Foreign & Commonwealth Office website here in the UK and of course, the embassy or consulate of the country you'd like to go to. Unfortunately however, though these sites are the most authoritative, they are often painfully lacking in very useful information. After finding out the basics, the next step is to get onto as many websites and traveller forums as you can and get talking to people. The only way to really get a grip of how the land lies and what opportunities are available to you is pure saturation of information.
You might also like...
Trying to get to work in the United States is a complete nightmare....the supposed Land of the Free is so xenophobic! I am from the UK - some of my ancestors even settled in America shortly after the first ones went out there on the Mayflower, but it took me 6 years before I was really allowed to work and live properly out there..with all the renew this, renew that, prove this hoops you have to jump through. Good luck to anyone who tries
ExPat
- 17-May-12 @ 10:14 AM