Finding Work While Abroad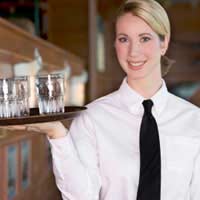 It's not unthinkable, or even unusual, to go abroad and decide to simply not come home. Let's face it, this place can be pretty dull sometimes, and there's a whole beautiful world out there. Many of us truly have the time of our lives on holiday and that holiday buzz combined with the spine-chilling thought of coming back to reality can sometimes be enough to push us over the edge.
It takes a bit of courage and some serious gumption, but you'll soon find you're not alone. Legions of Brits are following in the footsteps of Shirley Valentine and leaving this green and pleasant land in search of a different life, and in today's ever more communal world, there are more and more opportunities available.
So you've watched your plane take off and here you are in a brave new world. What are your options? The first thing to think about is how you're going to support yourself. If you're in the European Union, you can legally live and work anywhere you like for as long as you like. This means that you can try to use the skills you already have and find a job in your own field. If that proves to be a fruitless search, tap into the best resource of information available to you - the local expat community.
Almost every major city of the world has an international community. These are the best people to talk to about the opportunities available to you - and you'll find such people barely raise an eyelid at your zany, spur of the moment, life-changing decision to not go home. Expats can often help you get a foot in the door doing various jobs that only English speakers can do.
Teaching English as a Foreign Language
Teaching English as a Foreign Language is something only English speakers can do, and it is a service that most of the non-English speaking world greatly requires. For this reason, depending on where you are, it's quite possible to get a job teaching English even without any formal qualifications in the field. You don't need to speak a word of the language of the country you're in and it's a good place to start, meet new people and try your hand at something new.
A decent command of the English language and a confident, outgoing attitude is all you really need, though a decent level of education and/or some experience in working with the language and speaking to groups of people all come in handy too.
If you have some spare time and money, and feel you'd like to pursue a career in the field, you can study for a TEFL certificate in most cities in the world for under £1000. TEFL is the industry acronym for 'Teaching English as a Foreign Language' and certification comes from two main governing organisations; Cambridge University and Trinity. The course is largely a formality but the certificate is the industry standard and therefore will significantly increase your employment opportunities.
Outside the EU
Outside the EU finding work in your own field will be tricky without a work permit, so unless you can get around the issue you'd be better advised to find out what exactly is available rather than what you really want - beggars can't be choosers, if you like. Bar and restaurant work is nearly always available, though in less touristy areas you'll need to start picking up the language quickly. If you have a trade, in the old-fashioned sense of the word, you should be able to find work, though expect lower pay and lower standards than what you're used to.
One great option available to people of an outgoing and enterprising nature is being a tour guide in and around a city's top tourist attractions. Mother-tongue English speaking tour guides are in demand almost everywhere, at least during tourist season, and again, this job offers a fantastic way to meet people and get started off in a new life. Little or no experience is necessary in most cases, just the ability to learn, some charisma and a loud, clear voice.
You might also like...