Paid Teaching Jobs Abroad: FAQ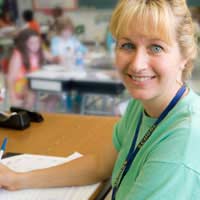 For many people teaching abroad is a dream career but the reality may be easier than it seems. Becoming a certified teacher does not take years of study and there is a huge need for English teachers in foreign countries.
What Qualifications Do I Need To Teach English Abroad?
The days when teaching English abroad did not require any formal qualifications seem to be almost over. Now, the best way to teach English abroad is to gain some form of teaching qualification such as a Teaching English as a Foreign Language certificate (TEFL). Formal training means you will have the skills and knowledge to teach, and people with qualifications have more teaching options.
Do I Need A Degree To Teach English abroad?
A degree can be helpful and is required in some countries but is not always a necessary qualification. Most of the advertised jobs will stipulate a TEFL qualification or similar qualifications such as a CELTA – the Cambridge teaching certificate.
I Don't Have The Time To Train For A Certificate
There are number of different ways that a TEFL certificate can be gained. Most colleges or universities will hold courses that can be either full-time or part-time. These courses do not take up a lot of time; a full time course will usually take 100 hours over four weeks. Part-time courses in the evenings mean that you can be qualified in around 16 weeks.
Is Distance Learning An Option?
There are internet courses where you can study to obtain certificates to teach abroad. The best option is to sign up for a course that combines distance learning with a weekend of actual classes. Attending teaching days is the best way to learn how to speak in front of others and to learn valuable classroom skills. You can also take a taster course that is cheaper than a full course and will give an idea if this sort of course is for you.
How Much Will A Teaching Certificate Cost Me?
This all depends on the type of course and the certificate achieved. Full time courses can range between £800 and £1000 GBP. Distance learning can be less expensive but additional weekend courses will add to the cost. There are also fast-track courses aimed at supplying certificates within a few weeks but be sure that you are obtaining a recognised certificate before applying.
I Have Read Adverts For Teaching Courses Abroad, Are They Real?
There are schools all over the world that will provide accommodation and teaching English courses. Many will promise to find students a job teaching English when the course finishes. These courses can be very expensive and there is no set in stone guarantee that a job will be waiting. The quality and prices of the courses will also vary and checking out the various online teaching English abroad website forums should be beneficial.
How Much Can I Earn By Teaching Abroad?
The amount an English teacher can earn will depend on the country they teach in and the various packages available. The salaries provided will usually make for a good standard of living and the hours are not always full-time. There are also benefits such as paid or discounted accommodation and flight travel can be reimbursed. The big advantage is of course becoming immersed in a different culture and seeing different parts of the world.
Once I Have My Certificate Where Can I Find Jobs?
Many of the certificate courses will give invaluable information on how to find a teaching English job abroad. Many more institutes will stipulate that a job abroad once qualified is part of the provided package. Use the internet forums on teaching English sites where you can obtain information from other English teachers. This is the best way to gain information about jobs abroad.
Where Are The Best Paid English Teaching Jobs?
In general countries such as Asia and the Middle East can provide the best salaries. These countries can also offer the best perks for teachers such as bonuses, discounted prices on accommodation and reimbursed flights. Other countries will supply enough to live comfortably but saving while teaching abroad may not be an option. Always research your options thoroughly to find the best jobs available.
Will I Receive An Employment Contract?
Not all but a lot of schools will want teachers to take a 12 month contract. By fulfilling this contract the teacher can receive bonuses and is more likely to be offered other teaching contracts. Those who decide not to fulfil their contract can find that they will lose flight reimbursements. Some schools work on verbal contracts and teachers must be aware of the terms and conditions before agreeing to teach.
You might also like...