Managing Your Finances While You're Away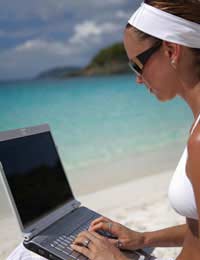 One aspect of planning a trip that many of us neglect is the organisation of our finances back home. We don't tend to think much about what's going to happen back home – beyond what might be happening in Big Brother of course - but it's important to have access to your funds if your holiday cash and travellers cheques run out, not only so that you have a lifeline in case of an emergency but also so that you can keep abreast of things from a distance and avoid paying fees and charges for late or missed payments.
Direct Debits
If you normally organise your finances in the good old fashioned way – inspecting each bill as it comes in and paying it in turn, you're probably safer than most of us from identity fraud. Direct debits can be incredibly convenient, but it's not always a good thing to have everything done behind your back. Payments can increase, even the occasional bank error
not
in your favour is made - all without you noticing.
However, if you're planning to be away for any more than a few weeks it may be something you should consider in order to avoid making late payments. In most cases, utility suppliers don't mind the occasional late payment, but it's still better for your credit rating in the long run to always pay on time. Credit card issuers definitely do make charges for late payments – usually quite hefty ones too!
Your credit card will be one of your sources of emergency cash while you're abroad, as well as a useful method of payment for accommodation, travel, restaurants and large shopping trips. For this reason you should set up a direct debit to pay off the minimum payment every month. If you wish to make more than the minimum payment, you can make as many 'one-off payments' as you like, but at least having the direct debit set up ensures you'll never incur a late payment charge as long as you have enough money coming in.
If you prefer to keep track of payments personally you can cancel the direct debit when you come back. To do this, you usually have to advise your bank in writing. You should also advise the company to whom the direct debit is paid, so that they know not to expect it. You should cover all angles and request confirmation from all parties, as this process can sometimes fall prey to lapses in communication.
Internet Banking
Probably the most essential thing to do before going away is to set up internet banking with the current account into which you receive your salary and all of the credit cards that you use. All UK banks now offer this service, though it can sometimes take a week or two to get started. With internet banking you have the opportunity to manage your finances from anywhere in the world at any time of the day, as long as you have a secure internet connection. You can make payments, set up or cancel direct debits and, most importantly, see your current balance and recent transactions online, allowing you to be aware of exactly how much you're spending as well as notice if anyone has overcharged you.
Certain financial service providers actually offer a money management facility – a secure site on which you can see all of your different accounts in one place. This saves you having to remember all of your passwords and log-in details, although some systems are not compatible with each other. If you do have several accounts to monitor with different log-in details for each one, try to establish some kind of system of deciding passwords that helps you remember all of them without writing them down.
Emergency Cash
Make sure you know the PIN numbers on both your current account cards and your credit cards so that you can draw cash from them if you need it – it's an expensive way to get cash but it may be your only choice if you need it quickly. It's also a good idea to keep some money in your current account rather than paying off your credit card bill in full, as the interest you pay for purchases on your credit card is less than that which you pay for a cash withdrawal. You should keep a photocopy of your passport for identification if it's stolen as well as the emergency telephone numbers of your bank and credit card issuers.
You might also like...