Advice on Exchanging Money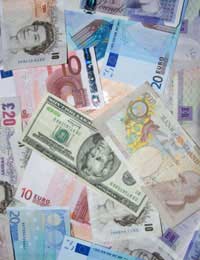 One thing that is essential for any trip is money - a supply of money in the correct currency, to be precise. But what is the best way to go about exchanging money? How much should you change? What if you change too much or not enough? Where should you go to get the best exchange rate? Should you do it before you leave or when you get there?
All of the above questions depend largely on where you're going, what you plan to do and how long you're going for, however, there are some hints and tips that are true for everyone.
Where to Exchange Money
More and more financial institutions are offering the facility of currency exchange. In recent years, the Post Office, various department stores and even supermarkets have all joined the fray in offering the ever-growing number of Brits travelling abroad (as well as visitors to this country) a convenient facility of currency exchange. However, although many advertise 0% commission, the rates of exchange offered are often quite poor.
The general rule of thumb is, the more a financial institution's operation is centred around trading currency, the more competitive they're likely to be. So the best place to go is an exchange bureau - a company whose entire operation comprises buying and selling foreign money. Similarly, a company that exchanges money just as a sideline or an extra service to its existing customers, such as a supermarket, is likely to give the worst rates.
Given that these exchange bureaus do not tend to have as many high street outlets as say, banks or travel agents, they can be seen as inconvenient, but if you have time you can order your foreign currency online and have it delivered to your home or office.
Major financial institutions also offer a great deal more security. You shouldn't carry more cash than is absolutely necessary for your daily expenses. For this reason it's best to have access to your money in the form of travellers cheques or prepaid foreign currency cash cards. If you have any problems, it's always best to be dealing with an organisation which specialises in ensuring the financial security and satisfaction of their customers while abroad.
While Abroad
Exchange bureaus can usually be found wherever there are people who might need them - principally in airports, but also in very touristy areas. The exchange rate won't be as good as if you were in the UK, but it's a better bet than chancing foreign banks or travel agents, where you have no idea what kind of deal awaits you.
If you have a foreign currency cash card and you have the facility of internet banking, it's possible to top up the credit on your prepaid card online, directly from your UK current account. If you don't have travellers cheques or a prepaid foreign currency cash card, you can still access your money using a cash machine and your current account card. You'll usually have to pay a fee both to your own bank and to the foreign bank that owns the cash machine, so it's in your interests to draw the maximum amount all in one go rather than making several trips to get small amounts.
Of course, carrying large amounts of cash is not recommended either, but because the banks charge you per transaction, you'll find the maximum you can draw in one go is quite low - less than half your maximum withdrawal in the UK.
If you find that you've got too much foreign currency, you can either sell it back to a financial institution when you get home or keep it until the next time you travel. Many travel agents, though they offer poor rates of exchange, guarantee to buy back your foreign currency at the same rate at which they sold it. However, this is only a good deal if you're likely to grossly overestimate how much cash you're going to need.
You might also like...