Tips For Saving for a Trip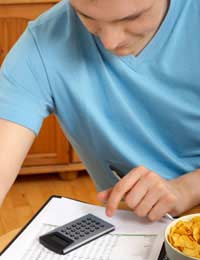 Travelling is, for many people, one of the best things you can do with your time and money. True, you don't have anything tangible at the end of it all except some photos and a few hideous trinkets and souvenirs, but if you feel that your life could do with some great experiences rather than material possessions, you'll find it easier to discipline yourself and save up for trips abroad. However, trips are expensive and they require a lot of money up front - it can be hard to save cash with every day temptations all around you.
Ways to Save Money
Saving money for a trip is an art form. It requires making little sacrifices almost every day, but there are ways in which you can cut down on spending without making your life unbearable - by spending the money you have more wisely. Work out what it is that you spend most of your disposable income on and what you'd be prepared to sacrifice for your trip. You may find that there are ways in which you can save money without compromising your lifestyle too much.
Material possessions - Whether it be clothes, CDs and DVDs, electronic gadgets or anything else that's always available, remember, they'll still be there when you get back. If you spend your money on rare and collectible items then maybe you won't have this luxury, but most items you can get along without, at least temporarily.
Going out - How many times do you go out and spend the equivalent of your daily holiday budget on an uneventful night out? Try to pick your social events more wisely rather than going out on a whim. Socialising at home is all the rage nowadays, didn't you know?
Day to day costs - Think about your regular outgoings and whether or not there's anything you can do to reduce them. It could mean doing your shopping in that slightly further away yet cheaper supermarket, or cooking more often instead of ordering in. Check out insurance quotes on your car or home to see if you could be paying less. Do the same thing with your utilities suppliers, mobile phone company, cable and internet provider, even your credit card issuer. All of these things could be done in a day and save you a lot in the long term.
Distractions - Try to find ways to fill in your time that cost little or no money. One very productive way to spend your time is to research your destination - this will help you not only make more out of your trip but also save a lot of money while you're there too. Another way to fill in time and save money is to work overtime or take a part time job thus killing two birds with one stone!
Mind Tricks
Temptation is a terrible thing and we all know that when faced with it, our minds can play remarkable tricks on us - so fight back! If you're out and about when the shops are open, leave all your cards at home and make sure not to carry much money with you. Make it inconvenient for you to access your savings at short notice - you can do this by setting up a regular monthly payment from your current account into a savings account. You could even try putting a photo of your holiday destination in your wallet or purse so that it's staring you in the face when you're about to spend money you shouldn't!
Motivation
The more wrapped up you are in your goal, the easier it will be to save the money. If you see it as a chore to make sacrifices and forget why you're doing it, you won't get very far. Read up as much as possible about where you're going and what you're going to do - feeding your imagination as you go along. The more you're focused on the trip the more immune you'll be to temptation, while at the same time you'll be increasingly psyched up to really make the most of your time away.
You might also like...