Travelling for Free as a Courier: Could You Do It?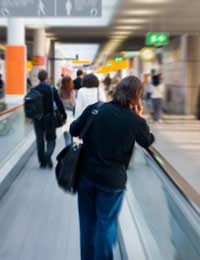 If you are on a tight budget and the thought of travelling abroad for free - or at very least, doing all your travel at discounted, bargain basement prices - appeals, then why not consider flying as a courier?
What Is A Courier Flight?
There's no real great mystery about travelling on a courier flight! It is no different to any other form of travel and is basically when a passenger takes a trip to deliver a document, letter or small parcel to a destination on-board a regular flight. Companies often prefer to let an item travel with an individual rather than a shipping company just so they know the item safely reaches its destination, and because on the whole, the cost of flying one person and one document economy is far cheaper and quicker than using a specialist cargo service.
How Will I Fly?
Well, the lap of luxury it ain't! Generally, courier flights are the bargain basement, economy seats - often on overnight flights, or other less desirable flight times! So if you can cope with flying at an ungodly hour and in the worse possible seats, then working as a courier will suit you just fine! Even if you can't, think the bigger picture - a few hours discomfort for a heavily discounted - or even free - flight!
What Will Happen?
The company you are representing will generally purchase a ticket on your behalf and then pass it on to you, with a substantial discount on the face value - or even for free on lower cost flights. If you are carrying a large consignment, you will often be expected to waive your luggage allowance in order for the goods you are accompanying to be stored as hold luggage, but if you are only carrying documents or small packets that can go into your hand luggage, then your allowance will remain intact.
Can Anyone Do It?
Generally, you need to be over 18 and obviously of good character and with a checkable work history and references - bear in mind the courier company are taking a risk with you - handing over their goods and sending you out of the country! Expect security checks and references to be followed up, and lengthy interview and form filling before you get offered a job!
Once you are on your assignment, you will just be the same as any other passenger on your flight and treated exactly the same - you do not need to make any special declarations of your business once on board, just sit back and enjoy the flight!
Who Shouldn't Do it?
Well, obviously if you are used to travelling first class, enjoying your creature comforts, and arriving at the airport with just seconds to spare before checking in, working as a courier probably won't be for you. But if you are easy going, reliable, conscientious, and able to travel on last minute arrangements and are not worried about going economy, it can be the ideal way to save money and see the world!
You might also like...