Making Your Holiday Pay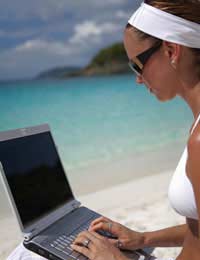 There's no denying that no matter how much of a bargain holiday or break you might find, making your holiday pay for itself is an appealing prospect. But how can you do it?
On the face of it, a holiday is a time to relax and forget about work, so finding opportunities to make some cash which are not too exerting or to the detriment of your vacation can seem like a fruitless task - or even too much like hard work! But there are opportunities you can tap into to may your holiday pay!
How Could YOU Do It?
Before you even go away, do some research on your destination - how could you profit from your trip? What skills do you have that you could really utilise once you are there?
Obviously you need to take care to ensure any big plans you have are within the law and do not contravene any export or import restrictions - remember that you will be liable for import duty and taxation if you bring goods back into the country to sell on.
Making the most of your existing skill set to earn yourself some money once you are back home is one way to make your holiday pay for itself, albeit retrospectively.
Showcase Your Talents
If you are a bit of an artist and you routinely take your painting materials with you when you travel, you might find an outlet for your work when you return. Study the local art and see what is popular - what completely encapsulates and sums up the local area? Is there a particular style you could emulate and work on once back home?
Do you have good photographic kit and second-to-none snapping skills? Could there be a market for your photographs? There are many websites that you can upload your images to in order to sell on. Surf around and see if there is a possible market for yours!
Travel writing is a notoriously difficult market to break into, even many experienced journalists and writers struggle to get a foot in the door, but if you have exclusive access to something completely new, ground breaking and newsworthy whilst you are away then you could pitch it to a magazine or newspaper's travel section as a first person piece or destination guide.
If writing is really your thing, and you know your destination inside out, you could even consider writing a travelogue or travel guide - ambitious, yes, but if you have the talent, the know how and lots of insider information on the area you are writing about, then why not?
Many companies pay individuals to courier documents from location to location for them - in exchange for carrying an envelope or papers on-board and delivering it the other end, you could easily cover a large percentage of your flight costs. Research courier flight companies and see how much you could earn and save!
However you decide to turn your vacation into cold, hard cash don't do it to the detriment of your enjoyment or turn it into a busman's holiday - it's your time for fun and relaxation - and if that includes earning a bit of money too, then all the better!
You might also like...