Public Attractions: Private Guided Tours, Cheap Deals and Scams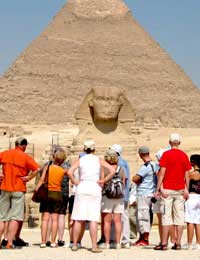 From the Taj Mahal to the Lost City of the Incas; from the Colosseum to the Empire State Building; from Amsterdam's famous Sex Museum to the Vatican and Sistine Chapel - the famous landmarks and public attractions are what makes the world's top tourist destinations what they are. Unless you're going on an activity break or for a few weeks on the beach, there's likely to be sights to behold and places to visit wherever you're going.
Of course wherever there are tourists, there are tourist traps, whether in the form of petty thieves or overpriced disappointments, so reading up in advance can often reap some benefits as well as save you some cash.
Private Guided Tours and Entry Fees
Entry fees for any popular attraction are usually quite unrealistic in terms of what you actually get for your money, but if there's only one of something in the world, you tend to just swallow your pride and pay the money so you can say you've been there and done it. Check online in advance for the cost of tickets and for low season special offers. Many attractions offer discounts to various groups and even the occasional 'cultural day' of free entry, though this is usually kept under wraps and for the benefit of the locals rather than tourists.
Various online agencies offer discounted packages that allow you and your family to see several things at a discounted rates, so if you're planning a cultural marathon it's well worth doing the research. Reading up online in advance also helps you avoid nasty surprises. Waiting in line for four hours only to be refused entry because you're dressed inappropriately can really spoil your day!
Many historical or cultural places of interest are swarming with freelance tour guides offering their services, sometimes for free, sometimes for a cost. The nature of the business depends greatly on the city but in most cases, a private tour is the best way to really appreciate what you're seeing and the worst that can happen is that your guide simply isn't as knowledgeable or as good as you'd hoped.
Gladiators and Naked Cowboys
One common parasite that orbits any popular tourist attraction are those certain entrepreneurial types who try to make money by making a spectacle of themselves - and you. Posing in costumes, these people will encourage you to take photographs with them and of them in a variety of entertaining poses that make great postcards - then demand money from you. Perfect examples are the countless gladiators around Rome and the naked cowboys in Time Square New York.
These people are usually quite aggressive when asking for money and the average tourist tends to fold straight away and pay out. The best way to avoid confrontation is to not take a photograph, but if you do happen to accidentally render some kind of service that you didn't ask for and then get hassled for money, simply say no and walk away. If they continue to cajole you, threaten the police. Such people operate without any kind of license and intimidating tourists is something usually looked dimly upon by the powers that be.
Pickpockets and Petty Criminals
Crowded tourist attractions are a pickpocket's paradise - like a rich orchard of money trees, with handbags literally hanging off the branches and wallets bursting with crispy new notes under every leaf. Many are small children who are not only below the radar but also untouchable by police and not considered with suspicion by many naïve tourists. Remember, wherever there are tourists, there are people looking to rob tourists. Always be vigilant and attentive. Keeping your cash and important documents in a money bag under your clothes is the best way to avoid losing them, even if it is a bit of a hassle to pay for things sometimes.
You might also like...