Bars & Restaurants Abroad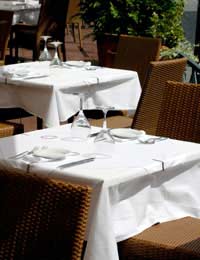 Big cities throughout the world attract thousands or even millions of visitors from far and wide every year for both business and pleasure, but in such melting pots of society there are people from every walk of life, and that includes the greedy and unscrupulous.
Visitors to a city invariably find themselves in bars and restaurants - after all, we all need to eat, and unless you've got self-catering accommodation you don't really have much choice but to eat out.
The vast majority of establishments treat all customers alike, affording the same cordial service and giving the same quality of food and drinks at the same prices to everybody, but a select few choose to exploit those who don't know better.
Deception
Probably the most common trick is to quite simply short change people. Always check your change at the moment they give it to you. If it is short, point it out there and then, preferably in a slightly louder voice than usual if there are other people around. Invariably the offender will then give you the rest of your change and politely apologise for his or her 'mistake'.
Prices should always be visible in any bar and clearly printed on the menu in any restaurant, however, sometimes the prices are ambiguous. For example, the price of a draught beer may be visible, but the quantity is assumed - you expect a pint to arrive but instead you get a small glass containing less than a half. In this case, it's unclear as to whether this is what everybody gets or if this is just what you get because you're a tourist.
Other common tricks include adding extra or hidden charges to the price displayed. The most common excuses for such charges are tax, service and the place where you are seated.
Don't ever feel embarrassed to scrutinise your bill, you probably won't get anything back but occasionally, if the conversation is within earshot of other customers, a bar or restaurant owner may again admit to a 'mistake'. A sure sign that you're being ripped off is if they become aggressive or intimidating, but in most cases it's fair to say that your protestations will be fruitless and you'd be just as well to leave.
Tricks of the Trade
The more common type of trap is found where the concentration of tourists is at its highest - in the centre of the city and near the most famous places of interest. Prices are invariably high and quality is low, sometimes so low as to be shocking. Such establishments survive by tourism alone and therefore don't need to worry about repeat business or bad reviews. Below are some tell tale signs that you've picked a such a place.
Service or cover charge - traditionally, restaurants charge you for food and you leave a tip if the service is good. Some restaurants however, presumptuously choose to add a percentage to your bill just to make sure.
Service and cover charge - theoretically, a cover charge is a charge for service. To count these as two separate things really does indicate that they don't miss a trick.
Unrequested extras that appear to be complimentary - in restaurants these are usually limited to bread and water that are simply put down on the table and then appear on the bill later. In bars, it could be in the form of pretty girls offering shots and then asking for money after you've drunk them.
Microwave or frozen food - you go expecting a taste of some world famous cuisine and instead you find yourself paying top dollar for something you could have found in a supermarket.
Small measures - as touched on above, the size of 'a beer' is a matter of opinion.
Special requests - such as additional side dishes or ingredients or particular cocktails also give bars and restaurants free reign to hike up the price.
Finding Value for Money
The only sure-fire way to avoid tourist traps is to eat and drink in places that are off the beaten track. Try to identify the places where local people go - including expats. In any large city you'll find British, Irish, American residents who, in the spirit of solidarity, can recommend the best places to go. In addition to these pointers, it's also fair to say that you stand to lose less from businesses at the two extreme ends of the market - the super exclusive and the super cheap. The former have a reputation to protect, while the latter have very little to gain by skimping on quality.
You might also like...