Thieves, Con Artists & Other Hustlers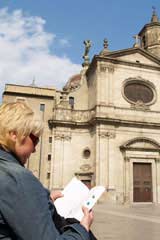 Wherever there are tourists, there are people looking to rob tourists. Bearing this basic concept in mind should help you to keep the right mentality when travelling abroad. People who travel are generally perceived to be reasonably rich - and therefore fair game. In the grand scheme of things, the average British traveller abroad is probably better off than most, but that doesn't make it any more hurtful or infuriating when we get cheated out of our hard earned cash!
Surviving in a bustling metropolis is not always easy - the rat race is competitive and some people feel justified in exploiting others in order to get ahead. One type of person very easy to exploit is the tourist - strangers in a town who don't know how much things should cost or what the norms of etiquette are.
Of course, poor people who steal out of necessity are slightly more forgivable than those who do it out of sheer greed or simply because they see an easy opportunity in naïve tourists. In almost all big cities there is a sub-culture of people who make a fairly decent living out of petty theft.
It's important to realise that there are two different types of tourist trap - those businesses who charge extortionate prices and depend solely on tourists for their trade, and those who wilfully trick or rob people.
Snatchers and Pickpockets
Probably the most common enemies of the tourist are the simple, outright thieves who grab your wallet or handbag and disappear. Pickpockets can be as young as even six years old - trained almost from birth by Fagan-esque parents - and almost always operate in crowded places where you'll think nothing of being brushed by strangers. Such small children easily slip under your field of vision and with such nimble hands can often rob you without you even realising it. Never underestimate the skills they possess in their art.
The other most common tactic is for thieves to work together, one causing a distraction while another does the deed. It's incredibly easy to make somebody look in a certain direction if just for a moment - and a moment is all they really need.
The only thing you can do to prevent it happening to you is try to be constantly vigilant. Always keep your wallet in your front pocket; handbag closed and where you can see it; keep cash and documents in a money belt under your clothes; take backpacks and rucksacks off when you're not walking around.
Tricksters and Hustlers
The slightly more sophisticated thief uses various scams to trick you into handing over your cash. One type of scam is to entice the victim into a quiet corner and offer him or her the opportunity to buy goods at a tiny fraction of their shop value on the premise that they are stolen - top of the range mobile phones or camcorders are among the preferred bait given their size and value. The buyer typically hands over cash while the seller appears to put the item back in its original packaging - but really, he masterfully substitutes the item for something of similar weight and size like a stone.
Such scams appeal to your own unscrupulous side, leaving you in an awkward situation - you can't exactly report the event to the police or claim on your insurance! Other scams include robbing clients of prostitutes - again, victims are reluctant to explain what really happened and so more often than not the perpetrators can continue to work the same scam in the same place undetected.
The Role of the Police
There is very little chance of ever getting back what was stolen. Bag snatchers and pickpockets disappear within seconds, often passing the stolen items to other colleagues; and if catching the thieves wasn't already a near-impossibility, proving that they did it certainly is. Added to this, the police's hands are tied when it comes to minors in most countries. Police in tourist areas are inundated with such occurrences every day and know all too well the futility of following up such crimes.
The role of the police is hence one of administration in the vast majority of cases. They take your statement and give you documentation which you then take to your embassy if your passport was stolen or to your insurance company if you think you can make some kind of claim. In other words, the moral of the story is, prevention rather than cure.
You might also like...