Ferry Travel Between UK and Europe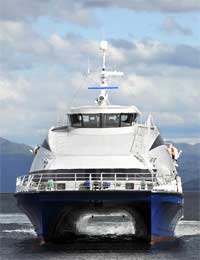 If you're the kind of traveller who likes to take in each bit of the road at a time rather than just getting on a plane and arriving at your final destination, then you'll most probably encounter ferries sooner or later. This is, in no small way, because Britain is an island.
Of course, since the early 90's we've had the Channel Tunnel (or 'Chunnel') connecting us with our Gallic cousins, so if you're not the seafaring type but you want to be kind to the environment, it is still possible. However, travelling by ferry can be both enjoyable and economical - especially if you choose to make the most out of it.
Let's face it, most of us never set foot on a boat - in fact, many of us rarely even go to the seaside. It's not that we're land-lubbers particularly, we're just too busy and preoccupied with making the most out of the little free time we have and it's so easy just to fly to places. But there's a lot to be said for the fresh sea air and its ability to clear your head, not to mention the spectacular panoramic views you get from a ferry as the great mass of land you were just standing on gradually diminishes into a faint shape on the horizon.
Mainland Europe
Travelling to France from the south of England is the quickest and cheapest type of ferry travel from the UK into mainland Europe. The shortest distance between the two countries is that between Dover and Calais, which takes about two and a half hours - short enough to actually go there and back in a day if you so please.
Other ferry routes from England to France or the low countries include: Dover to Dunkirk, Ostende (Belgium) or Hoek (Holland); Newhaven (near Brighton) to Dieppe; Poole to Cherbourg and Plymouth to Roscoff. There are also several routes coming out of Portsmouth to both France and Spain - the modern yet atmospheric town of Bilbao in the Basque region comes highly recommended, as does Santander.
For real lovers of the sea air, there are overnight routes from North Shields (near Newcastle) to Amsterdam and from Hull to Rotterdam or Zeebrugge.
Scandinavia
Again, for longer and more scenic journeys, consider heading north from North Shields where you can get direct ferries to Stavanger, Haugesund or Bergen (all in Norway). Unfortunately it is no longer possible to go direct to Gothenburg but from these three ports on the west coast of Norway it's very easy to find more routes all over Sweden and Denmark. There is also a ferry service from Harwich in Essex to Esbjerg in Denmark.
Ireland
Though the Irish Sea has a reputation for being one of the most hostile in the world, ferry travel between the UK and Ireland is quite common. The dear old Emerald Isle is well worth a visit if you fancy some genuine Irish blarney and a real taste of Guinness. Most routes go from Wales - Holyhead, Fishguard and Pembroke to Dublin and Dun Laoghaire and Rosslare in County Wexford in the south. You can also get from Fleetwood near Liverpool in the north West to Larne in Northern Ireland or Stranraer in Scotland to Belfast.
Booze Cruises
If en route to France or Holland, expect to see a lot of people doing a booze-cruise - the now legal tradition of buying cheap alcohol and cigarettes from the mainland and bringing it all back to the UK (for personal consumption only of course). Thanks to Britain's full EU membership, you can now theoretically buy as much as you like and bring it home, though if the Customs and Excise suspect that it may not be for your own personal consumption they do have the power to seize your goods without evidence.
Seasickness
It's unlikely on such a large vessel and on such a short journey that you'll have any problems, but if you do and you have no medication, fix your eyes on the horizon and try to focus only on that - the only thing in your environment that is not moving. Another way to find relief is to lie down.
You might also like...