Should I Get My Currency There Or Here in the UK?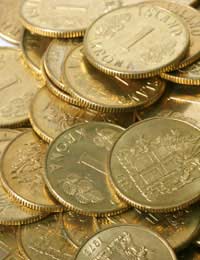 Q.
I am travelling to Iceland soon. As you will be aware it is very hard to find anywhere in the UK which will supply Icelandic Krona at this point and I guess this is the same for people travelling to other countries with a poor economy.
Am I better to get some at the airport or will I get better rates if I just withdraw money via cash machines in Iceland?
(G.M, 10 March 2009)

A.
Holiday Currency in Iceland
Iceland's financial collapse means that the Icelandic Krona (ISK) is almost dead and the country looks set to be fast tracked into the European Union; although this is not expected to happen until around 2011. Iceland was once an expensive holiday option but with the financial collapse it is now one of the most affordable holiday locations. Prices for hotel rooms and restaurant meals in Iceland have been cut by almost 40%, which is good news for those planning a holiday to this popular destination.
When it comes to currency exchange Iceland does have a high level of electronic payment options. It is never a good idea to exchange currency at airports as this will usually provide the worst rates of exchange. Traveller's cheques are widely accepted in banks and hotels in Iceland and US Dollars do seem to have the best exchange rates. Banking hours in Iceland are Monday to Friday, 9.15am to 4.00pm. Many banks will exchange currency free of charge. Cash can be exchanged in banks and there are around 170 banks in Iceland; try to find a bank that will not charge commission.
Credit Card Fees Abroad
Iceland accepts most major credit cards such as Mastercard, Europay, and Visa. Holiday makers should always check with their own banks and credit companies first when it comes to fees for using credit and debit cards abroad. Check how much is charged for both ATM withdrawals and purchasing goods.
If an ATM withdrawal is needed then make one large withdrawal instead of multiple withdrawals to cut down fees. Withdrawing cash at an ATM will usually be the most expensive way to obtain money abroad, especially when using a credit card.
Prepaid Travel Cards
Holiday makers should also consider taking a pre paid travel card to save on fees. Pre paid travel cards work in the same way as normal credit cards except the customer has to load the card with money before they can use the card. The advantage is that exchange rates are usually better than would be obtained from the more traditional currency exchange sources. There is a wide range of pre paid cards available and the fees and charges can vary.
Some of the pre paid travel cards do not have an application fee and do not charge commission or charge on exchange rates. Make sure to compare the various pre paid travel cards as some have very low rates compared to competitors when used for withdrawing money and making purchases abroad. Also make sure that the card you go for will be accepted in Iceland and that it can be loaded with US dollars.
You might also like...