Holiday Time Share Scam: A Case Study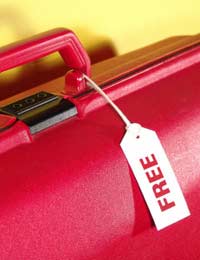 Not every holiday time share story is a scam but enough scare stories have been reported to make buyers very wary. Time share companies are not averse to using deceptive methods coupled with hard sell tactics to try to make a sale.
The Fake Prize Winning Tickets
Paul Knight and Emma Fuentes were on holiday in Malaga when their timeshare story took place. Strolling along the beach one day they were confronted by a couple selling scratchcard tickets. "It was a free scratchcard and they seemed like a friendly couple." Said Emma, "I did kind of wonder how they would make any money by giving the tickets for free. I thought I would maybe win free entry to a club but we won 500 Euros."
The Exclusive Holiday Club Offer
Paul and Emma were taken to an office and asked to attend a presentation that would only take around 90 minutes. "The office was more like a shop." Paul said. "We were asked for our credit cards in order to verify our details. At this point I became a bit wary but decided to go along with it for the prize." The couple were handed over to another representative who stressed that the presentation was not a timeshare scheme but an exclusive offer of a holiday club with specially selected members.
The Real Timeshare Deal
Paul and Emma were then asked to fill out a questionnaire with details about employment, pay and holiday options including how much they pay for their holidays. "We were told that becoming a member of this exclusive club would result in us receiving cheap holidays, flights and hotel rooms." Emma said. "They then started telling us about a cashback scheme where if we sent in the completed forms within three weeks we would get our money back within five years. I actually got lost around this point."
Timeshare Scam Manipulation
What the scammers were actually doing was applying different mind games where all offers and deals look free; stemming from the cashback offer. Paul and Emma were told that if they filled in the forms incorrectly they would not receive any cashback. They were then asked what length of membership they would require; either a 25 year membership or a lifetime offer. They were also told finance options could be arranged as membership to this exclusive club will run into the thousands of pounds mark.
The Timeshare Cash Prize
"We were then told that the deposit would be taken out from our credit card but that £500 of credit would be deposited into the holiday account." said Paul. "We were then asked if wished to move to an exclusive hotel there and then. When we said no they said they would put £200 into the holiday account as we had declined the offer." Paul and Emma were taken to another office where contracts were signed and told that the completion of the deal would take place in two weeks by bank transfer.
Champagne to Celebrate
The salesmen then took Paul and Emma to the post sales meeting to drink champagne and celebrate the deal closing. At this point they were shown round an exclusive timeshare apartment and were asked to sign another document regarding the sales behaviour of the staff. "It was at this point I realised it was just a timeshare deal. The sales staff were so friendly and seemed so trustworthy that I had no idea they were lying and it was a timeshare deal." Emma said. "We were taken back to our hotel by taxi and the sales people disappeared."
Timeshare Cooling Off Period
During the entire timeshare sales pitch Paul and Emma were never told there was a cooling off period. This is the amount of time within which they could change their mind over the deal. "Once back in London, I immediately telephoned my bank and told them the situation and they said they would cancel any transfers to this company. I also had to do the same thing with my credit card. Unfortunately I am still trying to get the deposit back." Said Paul. "I couldn't believe we were so easily duped and it certainly took the shine from that holiday."
Too Good to Be True Prizes
Many people will remember the saying regarding something that is too good to be true usually is. But the problem with being on holiday is that the brain is more relaxed and holiday makers are easily caught off guard. These tickets are the hook that lures unwary holiday makers into the scam. The tickets are always winners, no losers. Holiday makers should always be wary of scratchcard prizes, especially if they then need to sit through a presentation to actually receive the prize
You might also like...